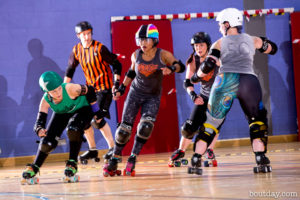 Earlier in the year, Jamie Potter wrote a great piece on how to attract more fans to Roller Derby, and I highly recommend you go and give it a read. I agree with pretty much all of it, but have a slightly different take on where I think the sport is going, and last weekend's Pride game really solidified my thinking about this.
By the skaters, for the skaters.
Until last weekend I was pretty sure that this philosophy was holding the sport back. It'll be hard to grow it beyond what it is if the skaters have to do everything themselves and don't let anyone else in.
This is based on the premise that the sport needs to grow, host big national competitions and get into the Olympics. I now think this is wrong and is exactly the sort of thing the sport's organisational structure seems to be designed to prevent. Bear with me.
Derby is governed by committees of skaters who, I suspect, don't all care about grand strategic objectives. They just want to skate. I don't think that structure is an accident. And you know what, that's fine.
You have one job. Empower young women. Show them that they can compete in a demanding physical sport that has nothing to do with anything other than their willingness to try, and is organised, financed and governed entirely by their peers.
Big tournaments are great as something to aspire to and to get the word out, but the battle needs to be fought at the local level. Flyers, fresh meat days, local games, the feeling that this is something that is difficult but achievable. It will grow, but if the last year has convinced me of anything, it's that forcing it is a mistake.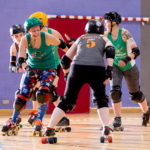 At the Pride game on Saturday I saw something that I haven't seen in a while. A couple of hard fought games that were played for the sheer joy of it. Beaming smiles on the faces of friends about to thump each other. Competing was more important than winning. They were boutfits, the refs and NSOs wore rainbow colours. Not of this detracted from the gameplay. Derby seemed to get a bit of it soul back and I remembered why I fell in love with this sport in the first place.
I've had my disagreements with the spot over the handling of photography and that sometimes keeps me away from travel games and tournaments. But I really don't care about that. The battle for hearts and minds a local one, and that's where I want to be.
Bring it on.
DaveMc, August 2016
Edit: I'm specifically referring to the women's game here as that's where most of my experience lies. I don't know how MRDA is organised, so I can't really comment.