Adderby Family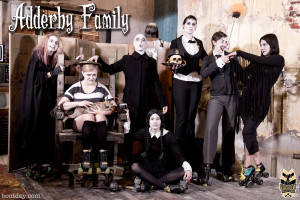 Every year at Halloween, Glasgow Roller Derby play Rainy City Roller Girls. This year the fine people at GRD decided that a suitably spooky Halloween photo was needed for the bout poster, so after much plotting and scheming it was decided that the Addams Family was the way to go. I think the idea of me as Cousin It was the clincher here, but I could be wrong.
Roles were bagsied and assigned, costumes were arranged and costructed, and a location was found. The following week we all arrived at Titan Props in Glasgow and raided the weapons, stuffed animals and electric char departments for suitable accessories. These shots were the results. I'm really rather proud of them, even if I am in one two of them.
The Halloween bout is on Saturday the 26th of October 2013 at the Glasgow Caledonian ARC. There will be flat track roller derby, cake and Halloween costumery. Tickets can be purchased on the door or in advance here.
Featuring Beav, Gill.I.Am, Prawn, Meg, Hazard, Studley and Habs. Guest starring Submarine and yours truly. Additional spooky support by Maul.