When I started shooting Roller Derby I was a studio photographer with studio equipment and experience. I almost never shot moving subjects and rarely shot without a tripod. The next couple of years were spent climbing a steep sports learning curve. Five years on and I kinda feel like I know what I'm doing with derby, so I decided to write some of it down in the hope of saving others some time and pain. I'm going to cover camera settings, shooting rules and etiquette, and the shooting locations and angles that I like to use. I've already written about colour and the equipment I use.
First up, camera gear and settings.
Basic Terminology
I'm going to assume that you might be unfamiliar with some of the basics, so if you know your way around a DSLR in manual mode you might want to skip ahead a bit.
Exposure: This is basically how bright an image is. If it's too dark and the shadows are blocked up it's under exposed (not enough light). If it's too bright and the highlights are blown, it's over exposed (too much light).
Exposure is a combination of 3 things, how much light gets through the lens (the aperture), for how long (the shutter speed) and how sensitive the camera is to that light (the ISO).  Increase one of those and you have to compensate by decreasing one of the others to keep the same exposure.
Aperture: Also called an F-Stop or a Stop. This is a variable sized hole in the lens that lets the light through at known levels. It's like the iris in your eye. Look at your eye in a mirror and then shine a light in it. You'll see the iris close. That's an aperture.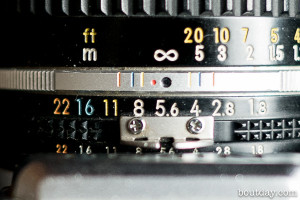 The full stops include: 2.8, 4, 5.6, 8, 11, 16 and 22, with each bigger number letting through half the light of the previous one. As you stop down the depth of focus increases, but you pay for that with less light. If your camera is working in 3rds of a stop there will be intermediate values between those, but the main stops are the ones we remember. They were etched onto film camera lens barrels. They'll be on a screen somewhere on a modern camera.